Committee
The Committee are in charge of all the organisation of the club, from persuading new people to join to booking sites for the 36hrs and from helping organise IC meals to booking traders. Elections happen in the Spring; the AGM is usually added to the 24hr so as to allow as many of our far-flung members to come and have a say.
Official hand over occurs at the second 36hr but the time between is a cross-over period while the outgoing committee teach the incoming committee what to do (and while the incoming committee get the new campaign selected).
Over the course of the year a number of Committee meetings are held to discuss issues and make arrangements; in any situation that needs a vote, all members of the Committee have an equal say (i.e. one vote each). Each Committee role has its own special tasks and responsibilities listed below.
To contact the committee, email us on committee@bathlarp.co.uk.
More information on the structure and current members of the Committee can be found below; you can also find out about past Committee decisions via the Minutes, the ongoing state of the club's Finances and Actions that the Committee is in the process of undertaking.
---
Chair
Roles and Responsibilities
Running committee and General meetings
Organising Campaign GM(s) election
Organising 36 and 24hr GMs election
Organising 36 and 24hr sites
Calendar updating and game allocation
Organising locations and dates for non-campaign IC meals
Current Incumbent
It could be said that James takes LARP too seriously as, in addition to being Chair, he also teaches people to fight with steel longswords and competes across Europe. Delusions of a Knight's Tale aside, his one persistent weakness is the army of rubber ducks that seems to follow him wherever he goes…not that we know anything about that… *innocent whistling*
Vice-Chair
Roles and Responsibilities
Organising 36 and 24hr sites
Calendar updating and game allocation
Organising locations and dates for non-campaign IC meals
Helping the Chairman as needed
Current Incumbent
Arf? Yip Yip! Bel is very much the club's foxy lady, in the sense that if something involves foxes she'll be all over it in moments. Invariably powered by caffeine, don't let her occasional reliance on canes fool you – if clawy death in the kidneys is required, Bel will be there. She's also a ninja Responsible Adult who will make sure people are taken care of while denying all responsibility and knowledge.
Secretary
Roles and Responsibilities
Organising committee and General meetings
Taking minutes at committee and General meetings
Making sure that all committee decisions and other organisational details are communicated to club via appropriate channels
Keeping the club's social media accounts up to date
Current Incumbent
You'd think by now Judith would have learnt to say, "Never again!" Despite their best efforts they keep ending up back on Committee, where they will persist in Getting Things Done. Judith's skills include logistics, being able to laminate anything, and spotting the exact moment to drop in an "Oo'er missus!" into any conversation.
Treasurer
Roles and Responsibilities
Handling all membership and player fees
Looking after the bank account and insurance
Looking after the kit (updating the website, lammies etc.)
Current Incumbent
Ponies! Well, unicorns – Amy is a bubbly little ball of glee wrapped up in a responsible adult costume, with a love of pink and cute and unicorns and bats and pretend stabbing. She plays amongst others Smyrna, the Amazon's Amazon, and Glamoria, the bubbliest half-orc Paladin in the world, which may give you some idea of what she's capable of…
Character Ref
Roles and Responsibilities
Updating rules/clarifications
Organising playtesting
Access to advanced skills etc.
Helping the committee where needed
Current Incumbent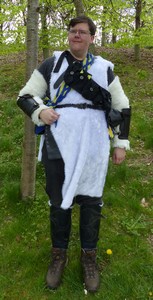 When it comes to pulling together odd character builds, researching unusual spells and testing the boundaries of casting lists, James is certainly one of the club's go-getters. He also has a knack for helping out when other GMs get out of their depth, and tries to keep games fun by whatever method suits the style.
James is also entirely responsible for, although not the creator of, Trader Joe. If this doesn't fill you with fear yet it's only a matter of time…